How to Maximize a Financial Consultant's Contributions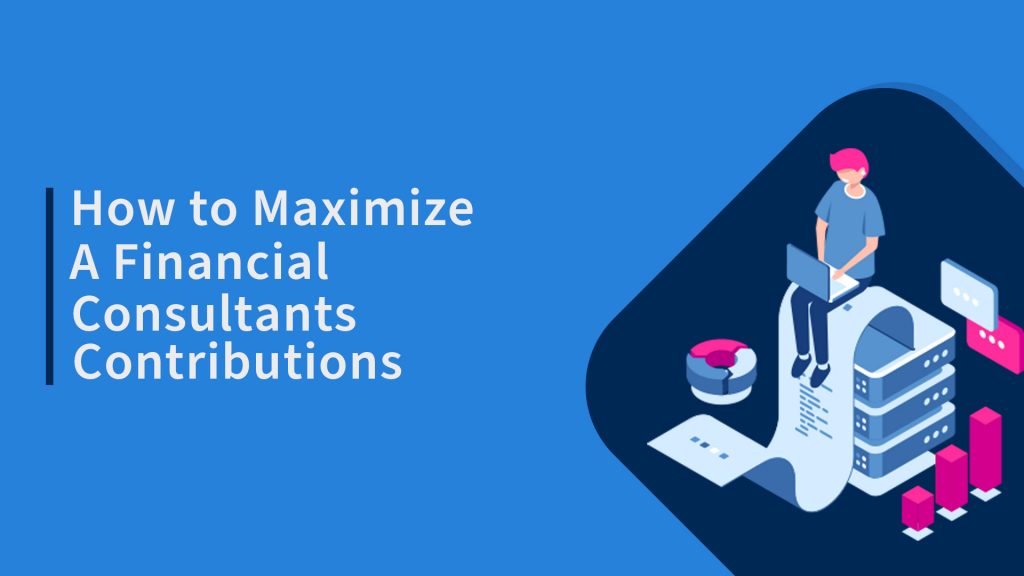 Companies used to look at financial consultants as a short-term solution for specific and unexpected events and to fill gaps in skillsets within the organization. Today, it's much more common to see financial management building their team with a mix of full-time employees and financial consultants. In the rapidly changing business environment, we're seeing today, this approach allows them to build a powerful, skilled team, with the flexibility to be agile when needed.
If you're in need of specific skills for a project or interim period, a financial consultant can help you meet your goals. Here's a look at how you can easily incorporate a consultant into your established financial team and tips to maximize their contributions.
6 Tips To Bring Interim Professionals Into the Fold
Source: financialexecutives.org
Maximizing Interim Professionals' Contributions
Following are six staffing management tips that can help a business form productive and positive working relationships with its interim staff.
1. Make time for an onboarding process. Even though interim professionals are accustomed to changing work environments often, and ramping up quickly, they still benefit from an onboarding process. This can be especially beneficial if the consultant or temporary professional will be engaged by the organization for several weeks or longer. On the interim professional's first day on the job, provide a welcome that is similar to how the business would greet a full-time hire. For example, managers should:
• Make sure the individual is met warmly at reception, and escorted personally to his or her workstation by a team member. (Preferably, a manager will do this.)
• Give the interim professional a tour of the office and introduce him or her to other employees.
• Review basics about the company, such as the organization's mission statement and values, goals and strategic objectives.
• Provide an organizational chart and a list of names, email addresses and phone numbers for key contacts in the accounting and finance department, and elsewhere in the firm.
• Offer insight into the company's culture. For instance, let the interim employee know about volunteer activities and company-wide events that may be taking place during their engagement they could take part in.
Managers should also follow up with consultants and temporary professionals regularly throughout their engagement to answer questions they may have and to confirm they have access to the resources they need to be successful. These check-ins also provide an opportunity for managers to offer feedback on interim professionals' performance.
2. Be clear about expectations. As with full-time employees, interim staff members need adequate direction to do their jobs well. Therefore, during the onboarding process, be sure to outline project details, deadlines and other relevant information — such as employee communication preferences and company norms— that can help consultants and temporary professionals meet organizational expectations.
In short, managers should do what they can to help these workers understand what success looks like for the project and at the firm. This can prove valuable if the organization ultimately decides to offer an interim professional a full-time position because that person will likely have an easier time visualizing his or her future at the company.
3. Provide challenging work. Many talented accounting and finance professionals specifically choose to work on an interim basis because they enjoy the diversity of work this career path can provide. These workers typically thrive on new experiences, have an entrepreneurial spirit and are committed to ongoing learning.
For specialized consultants, in particular, the ability to work on challenging projects and solve business problems is essential to job satisfaction, so the organization must take care to provide stimulating assignments for these professionals. Offering interim employees projects of varying difficulty, and encouraging them to team up with other staff members on those initiatives, is a good way to assess their abilities and potential longer-term fit for the organization.
4. Emphasize — and help to promote — collaboration. Successful collaboration is a fundamental element of any team project. When employees trust each other, there are fewer barriers to success. As a result, it's important for managers to help consultants and temporary professionals establish a comfortable role within the group from the outset of any initiative. Successful tactics include inviting them to the same meetings and including them on the same email correspondence that core staff attend and receive.
At the same time, in-house accounting and finance staff need to do their part to encourage this type of collaboration and show they recognize and appreciate the contributions of interim colleagues. However, for that to happen, management also needs to explain to their full-time employees why the firm is engaging temporary professionals as part of its overall staffing management plan. Team members need to understand how interim staff can help the firm achieve its strategic goals — and even more important, how these professionals can potentially enable them to be more productive and efficient in their own jobs.
5. Underscore why their contributions matter. When people know their work makes a difference, they are likely to feel valued. They also may be inclined to work even harder, which benefits the business, of course. But many managers fail to communicate exactly how their employees' efforts impact the bottom line: A recent survey by Robert Half found 53 percent of workers across all generations in today's workforce want more insight into how their contributions make a difference.
If managers are falling short in helping their in-house staff make the connection between their day-to-day duties and the firm's success, it's unlikely they are having that conversation with the consultants and temporary professionals they work with. A conscious effort is required to promote this type of discussion through staff meetings and regular check-ins with both full-time and interim team members.
6. Acknowledge their success. There is no better way to inspire employees than to offer sincere gratitude for their efforts. And that includes interim professionals. When consultants and temporary staff accomplish an important task, whether it's an assignment they handled solo or a project they worked on as part of a team, managers should acknowledge their achievement.
Public kudos — for example, mentioning an interim professional's achievement in a finance department meeting or an all-company email — can be meaningful and powerful recognition.
Depending on the accomplishment, management also may want to consider taking the temporary employee out to lunch or including that person in a team celebration.
Here's How You Can Quickly Add a Financial Consultant To You Team
If you're in need of specific skills for your next project, or to get your company to its next stage of growth, a financial consultant can be an asset. Finding skilled contractors when you need them can be a challenge. Luckily, we can help. Get started today and you could meet financial consultants in as early as 48 hours. Learn more about finding project and interim resources.
__________
Clarity is a recruitment agency specializing in the placement of designated Accountants and Finance professionals in the GTA and Vancouver. Our mission is to improve decision-making in hiring by investing in behavioural science and hiring technology. We specialize in Project & Interim Resourcing, Permanent Search and Executive Search and recruit Finance and Accounting Executives for growth companies. We are a tenured team of successful recruiters who have worked in the major industries across Toronto and Vancouver. info@findingclarity.ca.
Follow us on LinkedIn for updates, job postings and more.