Enhancing the Finance Function at a Growing Tech Company - A Hiring Case Study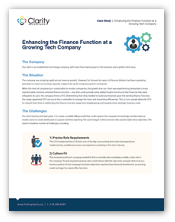 There is a point when every growing business needs to develop a sophisticated, business-oriented finance function.
For companies experiencing rapid annual revenue growth, basic bookkeeping becomes no longer enough. This is why we wanted to share a case study on how Clarity Recruitment helped a technology client start building a more sophisticated finance team. Download and read our case study to learn about Clarity's unique approach to solving our client's challenges.