Finding Top Finance Talent During an Expansion or Relocation - A Hiring Case Study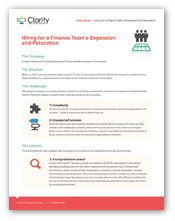 One of the most challenging positions to fill on a finance team is a Director of Finance role. As someone who needs to lead a team and drive results, it is also arguably, one of the most important.
Under the unique circumstances of an office relocation and company expansion, our client was seeking a new finance leader who not only had exceptional professional experience and credentials, but would also fit the organization's culture. The complexity of the hire left the company in need of professional hiring support. Download and read our case study to learn about Clarity's unique approach to solving our client's challenges.