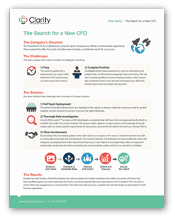 Finding the successor for any outstanding finance employee is a challenge, not to mention when that employee is your CFO.
For companies looking to hire someone to step into such a complex, sophisticated role, the task can be daunting.
When faced with this challenge under a tight timeline and with complex role requirements, our client sought Clarity Recruitment's professional hiring support. Download and read our case study to learn about Clarity's unique approach to solving our client's challenges.