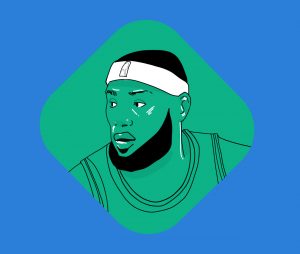 Employees are Free Agents
When is your Controller like Lebron James?
Hopefully not when they're talking about US-China relations, that's for sure. But seriously, when is your Controller like Lebron? It's not on the company rec basketball team, it's when they're free agents, and your employees are all free agents.
Lebron is noted as a savvy business person in addition to being a phenomenal basketball player and one of the most powerful things he did was to pioneer the concept of what people call a "1 and 1" contract. In 2014 when he came back to Cleveland from Miami he signed a 2 year contract that paid him the maximum salary allowed where the second year was a "player option" which means that he could opt-in, or out, of that second year at the end of the season. These deals are essentially 1-year contracts with a security blanket in that second season, just in case. 
Normally, athletes lock themselves into long term max deals (Mike Trout, MLB: 12 years, $430 million; James Harden, NBA: 6 years, $228 million; Connor McDavid, NHL: 8 years, $100 million; etc.) because there is uncertainty in life…What if you blow out your knee? Lock in that money, guarantee yourself a comfortable life. Lebron's approach was counterintuitive in that regard but it did afford him something else: leverage. Every year his team would have to woo him to come back, so he was able to exert a great deal of influence on which players the team brought in, coaching choices, front office picks, etc. Lebron afforded himself the ability to say 'goodbye' to his team on very short notice and this is effectively the position employers are in with every employee all the time.
1. Your Employees are All Free Agents
Because all employees are able to "take their talents to South Beach" at any point in time, it is imperative that you exercise all avenues available to you to keep your team locked in.
2. Financially
Is your compensation package competitive? Are you leading the market? Lagging? You need to know and understand that money is one of the most powerful tools in your arsenal. Compensation is not just base salary, it is cash bonuses, stock allowances, robust benefits packages, etc.
3. Lock in your star performers
You never regret paying a premium for star players, you only regret overpaying underperformers. Develop metrics around performance so you can clearly see who you're comfortable paying and who you might be ok letting walk.
4. Socially
Human beings are social animals and unless you have office dogs or rescue animals or work in an old-timey circus, your employees are all humans. Cultivate a social fabric on your team that people won't want to leave. Create collaborative opportunities as it creates for great ideation and exchanges of information, but it also creates bonds between coworkers. Create opportunities for employees to socialize outside of the office. Friendships are formed outside of 9-5, the more friendships that exist at work, the greater your employee retention will be.
5. Provide opportunities for progression
You will lose people if you do not afford them the opportunity to grow. Succession planning for superstars is key, involve them in it early. Give high performers growth opportunities even if they exist outside of your team/function. Having them in the company is better than not having them at all so be prepared to say 'see you later' instead of 'goodbye' when they join your Ops team instead of your competitor's finance function.
6. Be OK letting friends go
Business is business and that means sometimes you'll have to let people go; not everyone can be CFO. Provide open, honest feedback to everyone on the team, frequently. In doing so you will help set them up for success, even if that's not with you.
Lebron did eventually say "goodbye" to Cleveland and he signed a 4 year deal with the LA Lakers which goes to show you that you can stave off free agency with top-level people by addressing financial, social, and growth paradigms; just don't be surprised if he's not still playing for the Lakers in 4 years; we haven't talked about "pre-agency" yet. 
Remember that career progression and job satisfaction often overshadow job stability for most employees, especially your top performers. Employees are all free agents. Treat them as such.
What do you think? Leave us a comment below or contact Shane directly. For more career advice, job alerts and insights, sign up to our mailing list.