How to be Productive Working from Home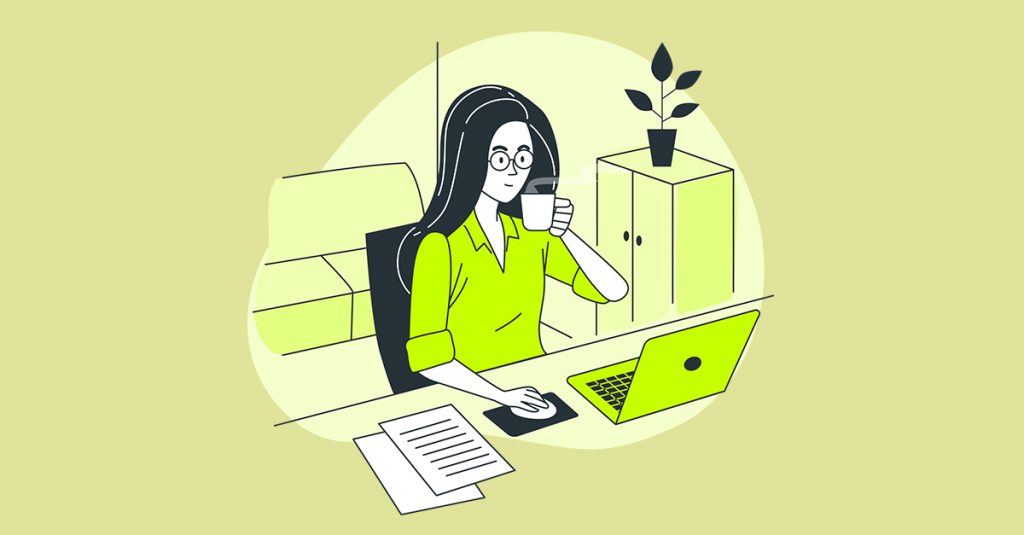 It's hard not to talk about COVID-19, the second you turn on the TV, go on social media or visit your local grocery stores. The fact of the matter is that we are in the midst of a rapid shift in terms of how society functions, including how we do our jobs. 
Luckily, the year is 2020 and we have systems and processes available to us that allow us to be productive while working from home. If your line of work makes working from home possible, here are some ways to make the best out of this situation.
Prepare your workspace
Before you hop onto a call with anyone, make sure you have tools and a space that allows you to do so. Having an ergonomic desk and chair is the basis of your productivity; it must be a  space that allows you to be productive without discomfort. Nothing tanks productivity than a squeaky, shakey chair and a desk that may buckle at any second.
Once you have that sorted, it's time to invest in some technology that will allow you to be present digitally, and to do work with purpose. While having a laptop is great for on-the-go work, it's not a bad idea to invest in an external monitor, mouse, and keyboard that are designed to be used for extended periods of time. This way you can hook up your laptop to a fixed location which is comfortable and more efficient while affording you the flexibility to disconnect and take your work elsewhere around your home to "break out" here and there.
For client/candidate-facing roles, it's always good to have a high-quality webcam and microphone so your interactions are crystal clear. At that point, more than anything, make sure you have a high-speed internet connection. Nothing kills productivity than a poor internet connection.
Adapt remote-friendly tools
Now, you're ready to adapt software that will allow you to continue your work like it's business as usual. Slack and G-Suite are the nexus of all communication and productivity; Slack allows quick workspace communications. It also has a free plan that has a 1-on-1 video chat option. G-Suite gives you access to shared cloud drives where you can collaborate and share and starts at $5 per user per month. Luckily right now, Google is offering access to premium Hangouts Meet features from now till July 1st at no extra cost. This will allow larger meetings for up to 250 members and live-streaming for 100,000 people. 
Reflect with your company to see what kind of software can be accessed at home, and help each other make the transition smoother. At Clarity, we're able to use recruitment software like Bullhorn anywhere, as well as our proprietary tool Luma-Fi. 
Be mindful of your appearance
Having your workspace setup is great, especially with a webcam and necessary tools. Now you're ready to talk to clients, co-workers, and anyone else you have a meeting set-up with. Just remember, you're at home which means there's a chance you might be feeling a little lazy. 
Remember to keep up appearances; you're still at work and being presentable shows everyone that you're still serious about the work you do regardless of where you're working from. Being presentable also allows you to keep up with your morning routine: it tells your brain that it's time to work. 
Business as usual
Speaking of routine, it's also good to treat work-from-home like any other day in the office. Part of this is still adhering to your deliverables at work. This means utilizing tools like Google Calendar to make sure you block out your day effectively. At Clarity, we use a fantastic productivity tool called Monday which allows us to plan our projects and deliverables in a visually diverse format; the tool allows you to tag users and make sure everyone involved is held accountable for what they're working on. 
Set boundaries. I cannot stress this enough. Working from home is great; your commute becomes negated, you can cook at home but the not-so-great factors involve all the various distractions at home. These can include social media, Netflix and a host of other luxuries we're used to coming home to. Give yourself breaks at times to indulge in some distractions, but never let anything get in the way of your work. If some distractions prove too strong sometimes, remove them from your environment so you can focus. 
Stay connected with your team and others
None of the work you do will be impactful if you don't communicate with your team. Utilize tools like Google Hangouts, Slack and other telecommunication software to stay in touch with your colleagues. Collaboration is a huge part of the work we do at Clarity, so having Slack, e-mail and a phone directory of all employees allows us to be in communication at any time. 
But this urgency in communication is just not for the sake of your work, but also, the sake of your sanity and the well being of your colleagues. If you know someone who is struggling right now, especially with the concerns surrounding COVID-19, a text, e-mail or call goes a long way to let them know that they're not alone. For yourself, having the ability to communicate allows you to stay connected with people you're used to seeing every day. Stay connected and keep the conversation going, whatever it might be. 
If connecting with others in person is your go-to approach, then on the phone and online might be something you may need to improve. Korn Ferry drafted a fantastic article on the importance of having good phone etiquette. Some of the tips include being aware of background noise, keeping your phone clean, and understanding the inflections in your tone so you don't come off as aggressive or anything that might damage a relationship. 
Take some time for yourself
At some point, you may feel the pressure of everything going on. You're worried about the outbreak, your loved ones, co-workers and many things related to this. At this point, it's important to take a step-back, get-up and go take a break. Taking a day for your mental health goes a long way in general, so if you need to take some time for yourself you absolutely have to do so. You'll come back to work refreshed and calm as opposed to tense and anxious.
There's no denying that adopting remote work will have some hurdles in the beginning, but by taking the time, communicating with your teams and being prepared, you will be able to acclimate quickly to the changes that are occurring. 
For more information on COVID-19, please refer to government institutions and your company manager for the facts. 
__________
Clarity is a recruitment agency specializing in the placement of designated Accountants and Finance professionals in the GTA and Vancouver. Our mission is to improve decision-making in hiring by investing in behavioural science and hiring technology. We specialize in finance and accounting recruitment, project & interim resourcing and executive search for high-growth companies. Connect
Follow us on LinkedIn to stay updated on articles, research and job opportunities.