Executive Search Firms for Candidates vs. General Recruiters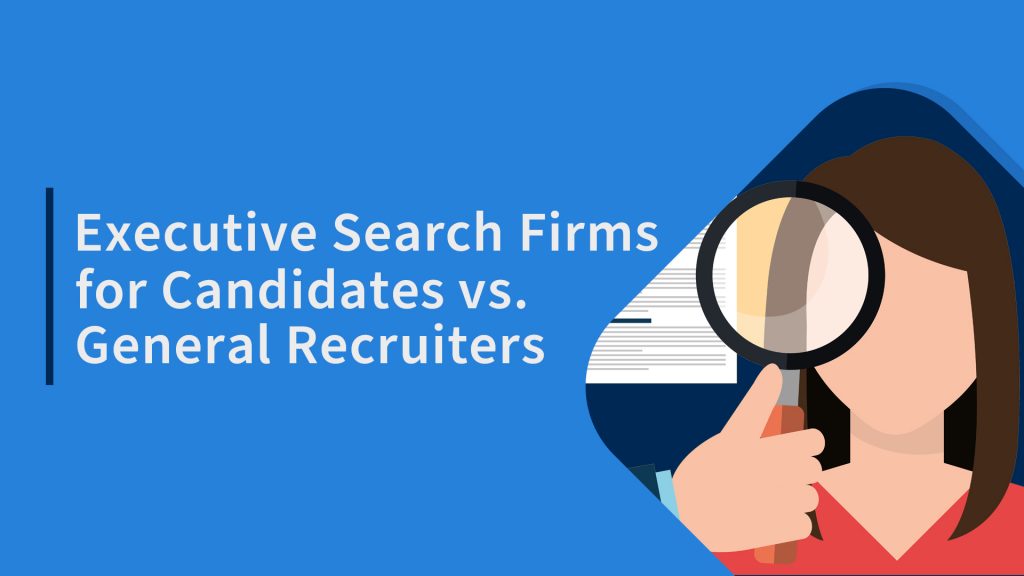 The difference between an executive search firm and a recruiter.
Looking for an executive-level finance job takes a specific strategy. If your skills and experience set you apart, why should you find a job like everyone else?
Unlike general recruiters, an executive search firm specializing in finance executives for growth companies can connect you with the right companies and the right role.
Three Things Candidates Should Know About Executive Recruiters
Source: forbes.com
1. They're not all the same. Executive search, contingency or in-house recruiters? Before connecting or continuing a conversation with a recruiter, you should ask if they're working for the particular company with the specific opening (in-house recruitment) or if they're from an outside firm (executive search or contingency firm). If they're from an outside firm, it's important to find out if they're from a retained executive search firm or a contingent recruiting firm.
Executive search consulting firms are typically used for senior-level executive positions and board directors. Assignments are generally for positions where the best candidate is harder to find and harder to persuade to make a move, and where the potential impact of success or failure is greatest. Contingent recruiters are most often used for mid-level positions or positions where there are a large number of qualified candidates.
As a candidate, you should only connect with legitimate executive recruiters working on an exclusive basis for their clients. This will ensure that your career information will be held in the strictest confidence and will only be disclosed to a hiring organization with your agreement and not divulged to third parties.
2. They work for their clients (the hiring organizations). When hiring senior executive-level talent (C-suite, VP, etc.), a client (hiring organization) may retain an executive search firm to help them find the very best talent to fill the position. Search firms are specialized management consulting firms that deliver extensive benefits beyond finding and attracting candidates — from assessing an organization and its culture and assimilating a new leader for optimum success, to advising executive leadership and boards.
Search firms work for their clients to find top executive candidates who fill gaps in their leadership teams. Search consultants offer industry-specific knowledge and expertise to ensure the most qualified and appropriate candidate is selected. Executive search involves in-depth research, private networking, exhaustive screening and a methodically thought-out selection process to gain a prosperous outcome for the hiring organization.
The most critical thing to remember as a candidate is that a search firm does not represent you, the individual executive (at least not until you are a serious contender for the position), but instead works for their client (the hiring organization) to deliver the best possible individual for a company's particular management role.
3. Building relationships with executive recruiters is a two-way street. Since the type of searches handled by executive search firms are not usually advertised on job boards, executives must ensure that they are visible to be considered for these opportunities. A few ways executives can ensure their visibility to executive search firms include:
• Speaking at relevant industry events or participating in conference panels.
• Publishing thought leadership on online platforms to showcase your industry expertise.
• Actively participating in your industry or professional association.
Before you start reaching out to individual search consultants, though, it's important to research what you both have in common. Always look for the specific areas of specialization for each search consultant. If you're a sales and marketing executive with deep experience in technology products and services, you would want to make note of any search professionals who specialize in any of these areas: sales, marketing, technology.
The search consultants who are the best match with your background should be at the top of your networking list. It's critical to remember that for the executive search consultant, you are "unsolicited" if you approach them. You may or may not fit a particular need that one of their clients has right now, but that doesn't mean that something might not turn up in the future.
All executive search consultants must maintain contact with the marketplace, understand what is happening in major companies and be aware of shifts in executive trends. One way to do this is to talk to executives like yourself. When talking to a search consultant about your career, remember that they may find useful your commentary on the market, developments within particular organizations, or referrals you may be able to make concerning their current searches.
Share your knowledge and the search consultant will share theirs, and hopefully make suggestions or provide you with information that will assist your networking and career management. And, should a search come up for them that aligns with your background and expertise, you will be top of mind.
Inside Information for Executive Search Candidates
Our executive search goal is to place the right candidate in the right role, ensuring long-term success for both the company and the candidate.
We can help financial executive candidates find positions in accounting, controllership, financial reporting, financial planning and analysis and more.
See accounting and finance roles in Vancouver and Toronto today.
__________
Clarity is a recruitment agency specializing in the placement of designated Accountants and Finance professionals in the GTA and Vancouver. Our mission is to improve decision-making in hiring by investing in behavioural science and hiring technology. We specialize in Project & Interim Resourcing, Permanent Search and Executive Search and recruit Finance and Accounting Executives for growth companies. We are a tenured team of successful recruiters who have worked in the major industries across Toronto and Vancouver. info@findingclarity.ca.
Follow us on LinkedIn for updates, job postings and more.