Obtaining Your Dream Job: CFO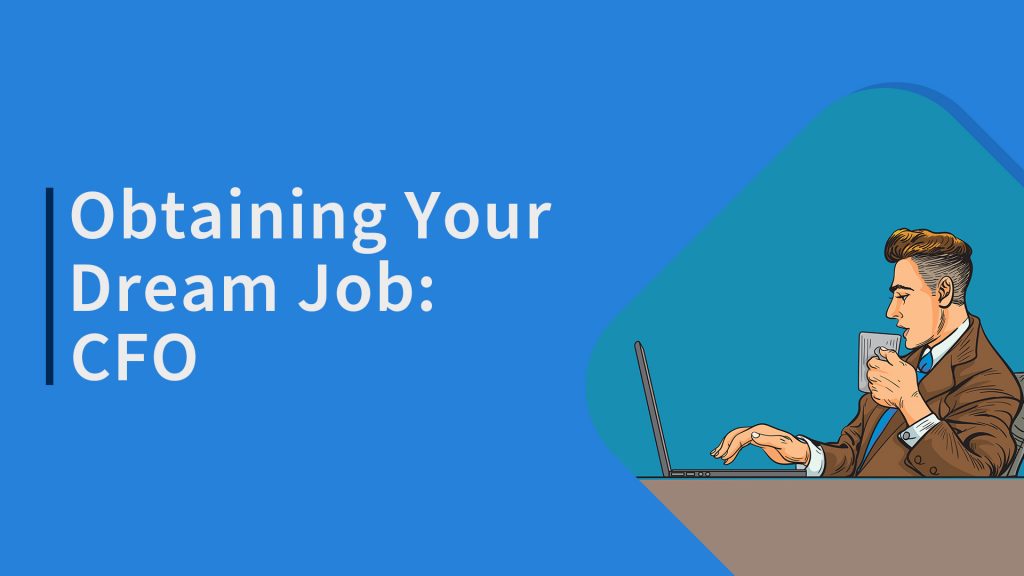 The Chief Financial Officer role is a dream job for many financial professionals. As an executive-level role, it is a crucial position, driving companies towards their next stage of growth. If being a modern CFO is your dream job, implement these tips in your career development strategy.
So you want to be a CFO? – 12 actionable tips to plot a course to the top role in Finance!
Source: superchargedfinance.com
What are the things I need to do to become a CFO in the future?"
"How can I make the transition from Financial Controller to Finance Director?"
These are the kind of questions I get from people from time to time. They probably ask me because of the breadth and length of my experience.
So, I thought I'd write something that gives a few pointers around how I would answer those questions.
So, without further ado, here are those pointers…
1. Do a great job now
I've seen several career-minded people fail because they spent so much time and energy thinking of plotting their career that they didn't do a good job. And that's a shame.
Careers are made up of levels and steps. And you don't normally get to progress to the next one unless you're impressing people in the current one.
The other thing to remember is that not many roles are created just as stepping stones to the next one! Every role you do has a purpose, and a set of requirements to serve the needs of the Finance function and the business. No one really cares how you want to use the role to advance your career… unless you're good at it.
So, always make it your first priority to "be the best version of you" every day. Whether the job is easy, mundane, difficult, complex or straightforward, never put less than 100% into it, and work to deliver the best output you can.
2. Be intentional
I always say that to be successful in anything, you need to be "intentional and analytical". That's what it means to be "strategic". It's knowing what you want to achieve, and making specific plans to do it, and then analysing to learn and get better.
In career terms, choosing your roles carefully, and doing things to learn the right skills, are important.
Look, recruitment consultants (in the main) don't give a sh*t what your career aspirations are. They're just happy to find anyone who will do a good job for their client and earn their fee. So, they sometimes try to persuade you to consider roles they think you can do, but are outside what you said you were looking for. And that's fair enough. Because they don't know how open/desperate you are unless they ask!
The point is that up to a certain point (because sometimes you haven't got time to keep trying) you need to have a clear idea what career moves you want, and stick to the plan as much as you can.
(And don't forget to get the CFO Career Action Plan Workbook to help you come up with your plan and stick to it!)
3. Find out what you need by analysing a successful CFO
If you want to be a CFO, find one (or preferably a few), and analyse them.
What jobs did they do to get there? What skills are they displaying?
What makes them a convincing CFO or Finance Director?
What are the skills and behaviours that are common to all CFOs, and which ones set apart those who are really successful or great, in your view?
How do you get that insight? Ask them! And read about them! There are plenty of career stories out there in the Finance & Accounting media and on LinkedIn.
At a conference I went to recently, that's exactly what one of the CFO speakers said that he did at several points in his career.
4. Get involved in projects where you can demonstrate or gain business acumen
One of the common problems is that it's easy for people to think that you're only able to do the job you do now.
I've had that a lot. For instance, I worked in a large plc business and got landed with implementing IFRS 2 and IAS 19 as part of the IFRS conversion project. From that point on, I was pigeon-holed as "technical". The fact that my role before that was as a Finance Director in my previous company was completely ignored all the time.
More recently, I get "well you're more of a Finance project person". Actually, er, no. I do projects because I can, and I like to. But it's not the only thing I can do. I'd actually make a pretty decent CFO, Finance Director or Group FC!
So, it's important to take every opportunity to demonstrate business acumen, especially if you want to get to a CFO role one day. And that means getting involved in projects where you're not always talking about the P&L or the balance sheet. It could be a systems implementation, an acquisition integration, a business line divestment, a fund raising, or anything like that.
It's all great experience. You learn loads. And it makes you a more rounded business professional, and more able to step up to a CFO role when the time comes.
And it helps to prevent you getting labelled.
Improve Your Chances Of Becoming a CFO Candidate
There are many things you can do to position yourself as a candidate for the coveted CFO role. The tips above are stepping stones to give you experience and the know-how to build your career.
Another actional step you can take is setting yourself up as a Featured Candidate for finance jobs. If you're looking for more experience to build your career, consider these accounting and finance roles.
Then find out how Clarity Executive Search can help connect you with your dream job.
__________
Clarity is a recruitment agency specializing in the placement of designated Accountants and Finance professionals in the GTA and Vancouver. Our mission is to improve decision-making in hiring by investing in behavioural science and hiring technology. We specialize in Project & Interim Resourcing, Permanent Search and Executive Search and recruit Finance and Accounting Executives for growth companies. We are a tenured team of successful recruiters who have worked in the major industries across Toronto and Vancouver. info@findingclarity.ca.
Follow us on LinkedIn for updates, job postings and more.