Prince Harry's Elevator Pitch To Canadian Employers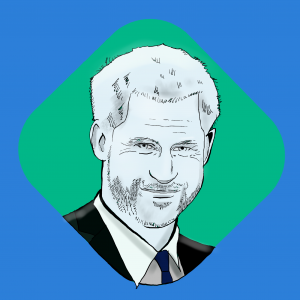 Dear Prince Harry (aka The Royal Formerly Known as "His Royal Highness"),
Welcome to Canada, we're glad to have you…I know what you're thinking:
"What have I done? I have a young family and I've quit my job with no backup, WHAT AM I GOING TO DO?"
Breathe. First, your wife Meghan has work experience so I'm sure she can get another acting job to help you get by. She doesn't need my help, but you do, and never fear, I'm here for you.
First things first, you need to start working on your elevator pitch as you may find yourself on a few interviews or in networking meetings and you need to have a coherent tight message that communicates your value proposition to potential employers, try this and let me know how it works:
"Hi, I'm Prince Harry, Duke of Sussex (last name is a source of contention, I hope that won't be an issue with payroll). I am a graduate of Eton College and also the Royal Military Academy Sandhurst where I spent a year completing Officer training and was then commissioned in to the British Army.

I served in the Army for 9 years, including two deployments to Afghanistan for which I was awarded the 'Operational Service Medal for Afghanistan'. I am someone who is always looking to continue learning and growing in my career and so I pursued and successfully completed helicopter pilot training and subsequently transitioned in to an airborne role within the military which was very rewarding.

In 2014, upon leaving active military service I founded the Invictus Games, a global athletic competition where wounded, injured, or sick armed services personnel and veterans from 18 countries compete in 13 different sports, and those numbers are growing with each iteration.

These events are massive in scale with over 75,000 attendees and nearly 1,500 volunteers with global media coverage and a nearly $60 million budget, but the games are even larger in terms of the impact they generate for a community of people that have given their countries so much, and I am incredibly proud of the work we've done.

I have a deep and abiding passion for giving back, and a demonstrated track record of resilience and achievement. Whether it is dealing with insurgents on the battlefield or the British tabloids, I have never let challenging situations overwhelm me. Now that I've relocated to Canada I wish to continue to develop my skills and to do so in service to an organization that I believe in."
That's about 80 seconds of elevator pitch and anyone hearing it now knows that you are a person with strong values and the ability to help build and scale organizations that drive massive impact. This is going to lead you in to a very productive interview, if you need some more tips, you can call me. If you don't have my number, just ask Justin Trudeau to connect us.
__________
Shane Gagnon CPHR is the Director, Client Services at Clarity Recruitment. He can be reached at 604.220.8500 or at shane@findingclarity.ca
Clarity is a Finance and Accounting consulting firm, specializing in the placement of designated Accountants and Finance professionals in the GTA and Vancouver. Our mission is to improve decision-making in hiring by investing in behavioural science and hiring technology. We specialize in Project and Interim Resourcing, Permanent Search and Executive Search – We recruit Finance and Accounting Executives for growth companies. We are a tenured team of successful recruiters who have worked in the major industries across Toronto. info@findingclarity.ca.
Follow us on LinkedIn for updates, job postings and more.