Clarity Recruitment's inaugural report guides start-up and scale-up leaders on the path towards a successful growth journey TORONTO, May 18, 2021 – Much has been written about the success of unicorns and growth companies, from start-ups, to scale-ups, to enterprises, however what is less evident is the role that finance plays in each stage. Today, Clarity Recruitment, a national leading finance and accounting recruitment firm, released a new report addressing this important topic. Through interviews with CEOs, Founders, CFOs, investors and other leaders from Canada's top growth companies, the inaugural report, How Finance Fuels Growth, details the critical role of the finance function and its leadership across each stage of organizational growth.  
Finance is a critical function of any successful business, however Clarity Recruitment's research revealed that growth companies typically spend less than 10% of their overall budget on finance and operations combined. This leaves little room for error to invest in the right finance resources at the right time. The report highlights not only what structure and competencies are needed within each growth stage, but also how finance can fuel growth or, in some cases, cause friction slowing the overall company down. Key highlights uncovered in the report include:
Finance competencies and structures that are needed within each growth and revenue stage (start up, scale up and enterprise-level).

The revenue amount when growth companies should hire a senior finance professional to successfully scale-up.

Identifying the symptoms that are hindering growth and what success looks like

. 

Recommendations on how to achieve breakout growth, with input from Canada's leading CEOs, Founders and CFOs.
The report is timely, as Canada's technology sector saw $3.26 Billion worth of IPOs in the first quarter of 2021, the highest in 15 years. Canada is currently prime ground for rapidly growing companies, with the country's technology scene demonstrating tremendous and rapid innovation in the face of the COVID-19 pandemic, while at the same time continuing to hold its position as a leader in the global startup ecosystem."Our scale-up clients are achieving exceptional growth when they hire the right senior finance talent," said Joe Diubaldo, Founder & President, Clarity Recruitment. "Growth companies experience unique pressures when they undergo IPOs, SPACs and major PE/VC investments. To capitalize on these milestone events, they need a strategic finance function that can effectively manage these complex initiatives, and ensure normal business operations. Our report demonstrates that without the right investments and talent across core finance, accounting and operational functions, companies can miss the opportunity to achieve breakout growth."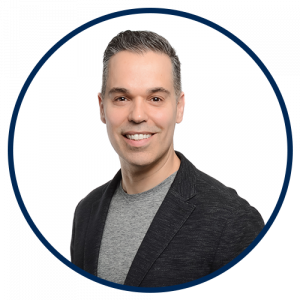 Joe Diubaldo, President & CEO of Clarity RecruitmentFor more information, How Finance Fuels Growth can be downloaded here.About Clarity RecruitmentClarity Recruitment fuels growth in Canada's start-up and scale-up ecosystem by placing top finance and accounting talent into the country's fastest growing companies.
Specialists in the vertical of finance, the recruitment firm serves clients through their Executive Search, Project & Interim and Permanent divisions, where they place CFOs to Senior Financial Analysts. Clarity Recruitment has a national reach, and places hundreds of designated, senior-level finance and accounting professionals each year in Canada's fastest growing companies.
Clarity Recruitment takes a unique approach to hiring by leveraging behavioural science frameworks and proprietary technologies. Their data-driven recruitment tools reduce the biases in hiring and improve performance outcomes. Learn more about Clarity Recruitment here.For More Information
Sarah Madden

(647) 249-9774 | ext 304

Marketing Director

Clarity Recruitment
Catherine Snider

(416) 419-8333

Account Director

Kaiser & Partners
About the Author